8/15/2017. "Ocean Patch could be bigger than Mexico " by Bonnie Turner. CNN interviews Captain Moore on the South Pacific Gyre. Airing tonite on "CNN Today". Check your local listings.
8/2/2017. "Scientists Discover a Second Garbage Patch" New York Daily News Article by Rachel de Santis
7/29/2017. "South Pacific Ocean Gyre Holds Massive Garbage Patch" Weather Network Canada Article by Hailey Montgomery. "...Great article on our South Pacific Gyre voyage from the Weather Network, Canada"......Captain Moore
7/27/2017. "Plastic pollution threatens water quality in world's oceans " Article in The Post and Courier Charleston, South Carolina submitted by Goffiinet McLaren, our dear friend and author of "Sully Saves the Seas".
7/24/2017. "Aquarium Joins Fight Against Plastic Pollution" Beachcomber, Long Beach, Ca. Article by Kirt Ramirez.
7/23/2017 " EL PLÁSTICO DEL PACÍFICO SUR SE ACUMULA ENTRE RAPA NUI Y JUAN FERNÁNDEZ " El Mercurio Article by Amalia Torres
(English translation) The Plastic of the South Pacific accumulates between Rapa Nui and Juan Fernández. Pieces of bottles, Lids, fishing boats, a buoy and many pieces of #plasticwere some of the wastes found during an expedition in Chilean Waters LED by Charles Moore, an oceanographer known for having discovered 20 years ago, Big Plastic Patch in the North Pacific. Moore points out that in the South Pacific There is a #garbage patch between #rapanui and #juanfernández, this as marine currents displace the waste by the #oceans, concentrating on certain twists and turns where the currents converge. The crew also collected samples of #fish, noting that their stomachs were full of plastic. This material never disappears: it is transformed over time into smaller particles known as #microplásticos, which will form a thin layer over the #sea in the next 50 or 80 years if everything stays the same.
7/21/2017. "Guess how many giant patches of garbage there are in the ocean now?" Popular Science Article by Kendra Pierre-Lewis
The Great Pacific Garbage Patch now has a cousin in the South Pacific
Plastic pollution doesn't just dirty beaches—its effects can be felt throughout the ecosystem. "We are living in a plastic age," Captain Charles Moore tells PopSci. "We're ignorant of its dangers, and we haven't learned properly to fear or to respect it." Moore, the Founder and Research Director of Algalita Marine Research and Education, is fresh off of a six-month excursion investigating plastic pollution in the South Pacific. He found that the waters in the South Pacific Gyre—a remote location that begins some 3,800 miles east of Latin America—are currently choked with plastic.
7/16/17. "A Mission to the Pacific Plastic Patch", BBC Science and Environment Interview Article by Dr. Charlotte Brassey.
Integrative Environmental Medicine – Book Review. A myriad of chronic health problems have been on the rise since WWII, including obesity, diabetes, cancers, asthma, ADHD, autism and thyroid and autoimmune diseases. Algalita's Captain Charles Moore and colleague Sarah Mosko, Ph.D., have been privileged to contribute a chapter on the health risks associated with plastics to Integrative Environmental Medicine.
7/1/17. "Is it Time to Ban the Plastic Bottle?" BBC Inquiry Podcast Interview by Simon Maybin
June 15 - World Merit Bohol President Announces Captain Moore's Participation in World Merit 2017 Youth Summit
From Charlene Mae Sungahid Bornea, Makati, Phillipines. I am personally honored to introduce Captain Charles Moore as our SDG 14 key speaker! Count on Captain Charles Moore to tell it like it is. The "blue water" sailor discovered in 1997, while returning home from Hawaii that the North Pacific Ocean was becoming "a disgusting, plastic cesspool." That encounter with civilization's "plastic footprint" not only redefined Algalita's focus—it reignited a new mission for Captain Moore. He had grown up in Long Beach, California, swimming in Alamitos Bay and sailing to remote places like Guadalupe Island and Hawaii, and had seen first hand the decline of coastal marine ecosystems.
Prior to his first research voyage in 1999, nobody had conducted an expedition to study plastic marine pollution in the area that has become known as "The Eastern Garbage Patch." Since then, Captain Moore has become a world-renowned investigator in this field. He has continued leading sea expeditions, combing through more than 150,000 miles of ocean, and authored scientific papers on plastic particulate pollution.
Captain Moore's "do-it-yourself", entrepreneurial brand of environmentalism — described in his book Plastic Ocean—has brought worldwide attention to the issue. In Captain Moore's blunt, yet rousing style, he speaks to audiences across the globe, explaining how plastic debris can even be seen as the No. 1 threat to the planet.
Captain Moore won the 2014 Peter Benchley Ocean Award "Hero of the Seas" Award, among many others, and has been featured as the Great Pacific Garbage Patch expert on "Nightline", National Public Radio, Rolling Stone, The Wall Street Journal, NBC, CBS, CNN and more.
June 14, 2017 - Radio Interview with Calvin Grace, KUCI, Irvine
June, 2017 Environment Feature Interview by Keely Burkey for Magazine #iAMHCMC, Ho Chi Minh City, Vietnam
May 2, 2017 Captain Moor'e 1997 "Garbage Patch" discovery is used as a question on ABC's Jeopardy Program.
October 1. Algalita Fall Forum & Fundraiser. A well attended, grand evening in Captain Moore's Home Garden.
September 23 - Captain Moore Presented at The International Surfing Museum Huntington Beach, California
September 2 - 4 World Merit 360 Organization Conference Indian Head Camp, Equinunk, Pennsylvania.
I am privileged to be one of the speakers at this '"Think Tank". 400 young people from 80 countries have come to this beautiful venue to work on UN Millenium goals, including stopping plastic pollution. This is the first day......more to come....
JOIN THE 2016 - 17 SOUTH PACIFIC GYRE EXPEDITION SETTING SAIL NOVEMBER 2, 2016.
As the sail date for the South Pacific Gyre Expedition approaches, we are receiving endorsements in support of Captain Moore's continued pioneering research.
Wyland, marinelife artist and activist; Don Walsh, Capt. U.S. Navy (Ret.), recognized Oceanographer and Explorer
August 2 - Long Beach Local News
This is the first in a series with Melissa McGinnis, during which he will share his research experiences and work as a World Ambassador for our oceans and overall environmental health. This episode is about Urban Farming and his Home Garden in Belmont Shore. Information about his new South Pacific Gyre Expedition will be one of the forthcoming episodes.
Stay tuned and thanks for watching!
May-June Visit to Chile Report Now Available in the Chile 2016 - 2017 Section
July 9 - CNN INTERVIEW
Noted CNN journalists, Senior International Correspondent, Nick Paton Walsh, and Ingrid Formanek, CNN Senior International Producer, joined Captain Moore for an in-depth conversation for their forthcoming Environmental Project, tentatively titled "Plastic Planet".
Captain Moore was interviewed several times during his May -June visit to Chile. Here he is featured in the first edition of the new Chile magazine, El Explorador. You can read it in Spanish here.
This country takes plastic pollution very seriously and the populace, including children, are highly active in their roles as environmental caretakers.
Captain Moore was very pleased to be interviewed for the publication and was additionally honored by being given the distinction of gracing the cover.
June 16 - Screening of the film "Trashed" with presentation by Captain Moore at Surfrider Event held at Don the Beachcombers in Huntington Beach. Well attended event with many dedicated plastic pollution activists.
June 8 - Click here to watch the video of Captain Moore in Chile speaking about "The Plastic Curtain of Ignorance"
June 1 - Click here to see a TV Interview in Spanish with Captain Moore and Martin Thiel, Professor of Marine Biology.
May 30 - 31 - Coquimbo
May 27 - Ciencias Del Mar Conference, Universidad de Concepcion
May 25 - Punta Lobos Reciclaje Conference, Pichilemu
May 20 - Universidad Catolica deNorte, Antofagasta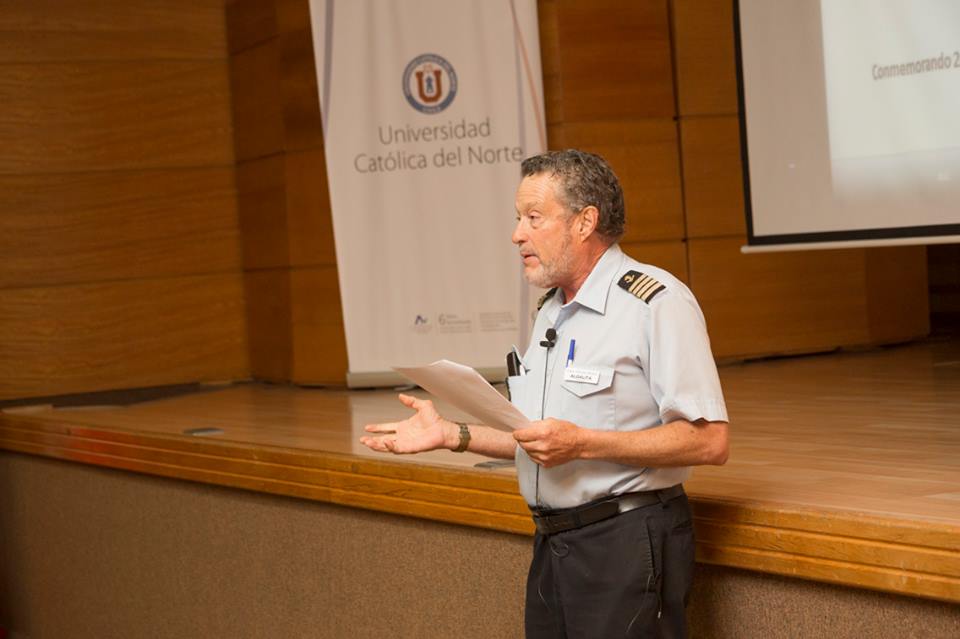 May 17 - Enactment of the Law of Extended Producer Responsibility in Chile
Today, I celebrated the signing of the Law of Extended Producer Responsibility in Chile with the Minister of the Environment for the Arica, Chile area by giving students from Escuela D-4 Republica de Israel a lecture on plastic pollution. Seremi, the Environment Minister, illustrated the concept of six kilos of plastic for one kilo of zooplankton by having one student hold one book and another student hold six books, standing side by side. These young folks were another school of Forjadores Ambientales, "Environmental Pioneers".
Fundadacion Arica Revive